Horizontal or vertical? If you're outfitting a room with brand new blinds, you might be stuck trying to decide between horizontal and vertical blinds. Each of these options have different advantages, so let's discuss some of the factors to keep in mind while making your decision.
The San Francisco Chronicle's Home Guides section suggests that you should first consider the type of window you are outfitting to determine the best type of shades. Sliding doors usually feature long, vertical shades, especially since they are typically easier to push out of the way than horizontal shades. Taller and narrow windows typically get horizontal shades. The thinner slats used on horizontal shades are a bit sturdier than vertical shades, and they are easy to open and close in smaller spaces.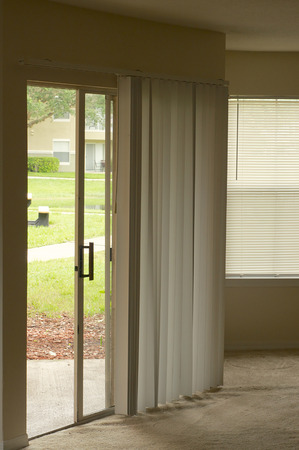 One of the biggest factors to also keep in mind when making your selection is the direction of the sun. Vertical shades are typically used on windows that face east or west, while horizontal blinds are more common for windows that face north or south. This has to do with the angle of sunlight that'll be coming into your home – horizontal shades can be adjusted up and down to block light or allow light in better as the angle of the sun changes. North- and south-facing windows, however, don't have direct sunlight, so they are well-suited for use in these locations.
Horizontal blinds are also the better choice if you're worried about privacy. You'll have total control over the blinds, and be able to open and close them as needed. Vertical blinds tend to allow light to pass through more easily, and if a person bumps into the blinds, they can easily open slightly and allow unwanted eyes to see inside.
When it comes to upkeep and care, there's a bit of an argument to be made that vertical blinds are a bit easier to clean than horizontal blinds. You can easily dust a full section of vertical blinds in one sweep, while horizontal blinds have strings and other mechanisms that might cause some difficulty, or they may be placed in locations that are difficult to reach. Plus, with horizontal blinds, you'll have to clean while the blinds are facing one way and then flip them over to clean the other side.
If you still have questions about what type of blinds you should get or for help in deciding which blinds are best for your home, Boca Blinds is here to help. Check out our list of services and products to review all the options available, or head over to our design center to help customize a look for your home. To learn more or to request an in-home estimate, call us today at 561-368-5322.